Craft the perfect post for each social
network, all in one place.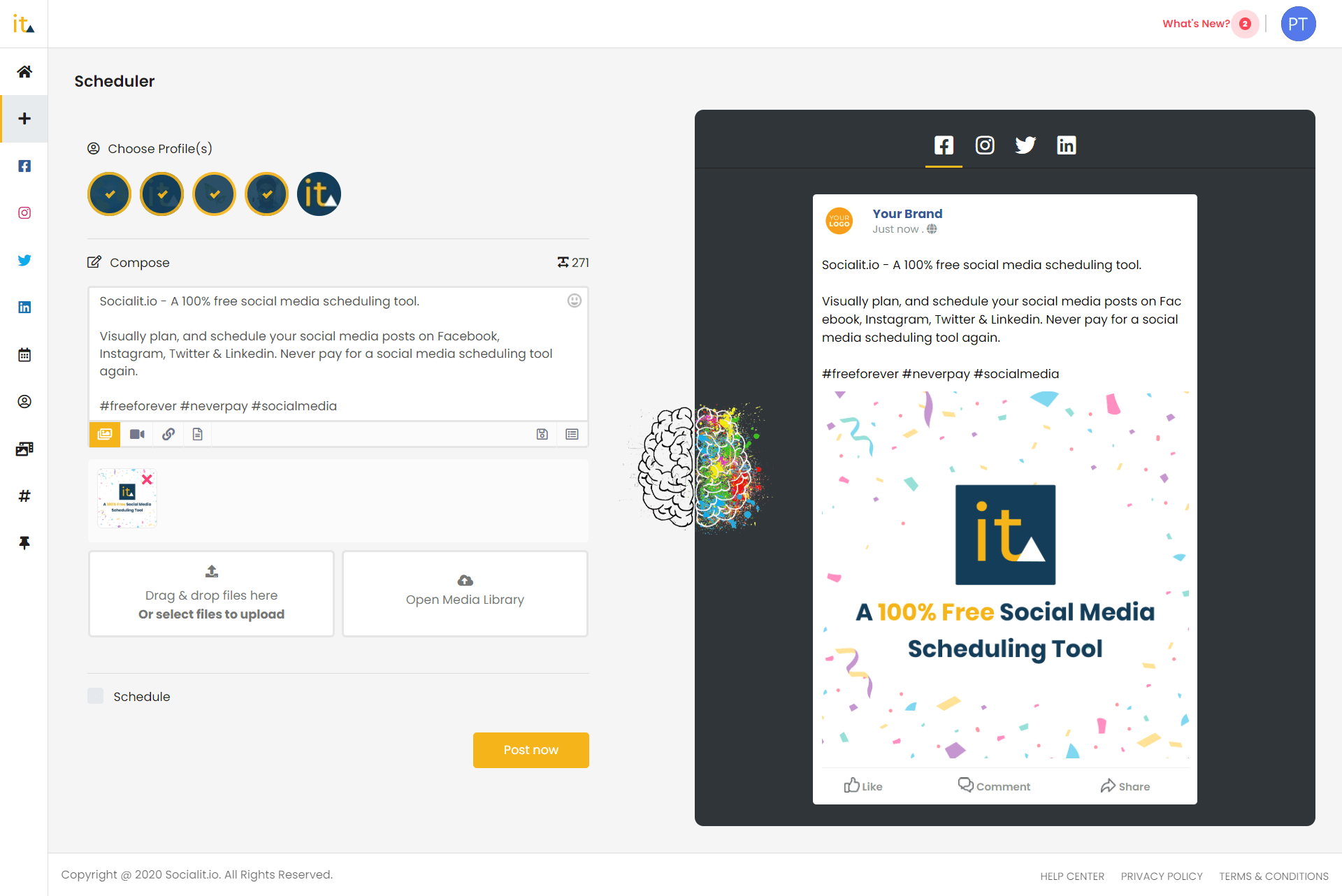 Publish or schedule posts to various social media channels from

one single dashboard.
8 reviews on
Great product! ☺Free tool that allows us to save time by scheduling all our posts in advance. Thanks to the calendar view, we have a global view of all our programming, which is very important for us. ☹The missing functionality: being able to mention (tag) people for linkedin. It could be interesting to have an analysis with the posts that have the best deals depending on the day and time. The preview of the post could be improved, because we don't see all the details of the post, but a part of it could be improved. Some small bugs to fix : the cross on the preview of a post doesn't work.
WOW!, CAN'T BELIEVE IT'S FREEEE Making social media management very easy. Just try it out ☺It freely free, very easy to use and their customer support service is superb ☹So far, I have not discovered any flaws .
Great product for now but lack few features Overall, this is a good to to autopublish content simultaneously on multiple social media platforms but lacks advanced features which are required by more advance professionals lile me.. 4 stars from me. ☺Very easy to use setting it up and integrating with social media platforms was easy Nice and clean interface. Easy to navigate Posts are published immediately ☹Lacks features like streams that u find in Hootsuite Reporting has errors reporting is not detailed. Limited metrics does not have functionality to add and track keywords or hashtags like hootsuite
Great free social syndication software ☺Socialit is a great alternative to Buffer, Hootsuite, etc. Not only is it functionally great, but it is also free! ☹At this point in time, there is nothing that I find lacking in the software.
This is what I was looking from years ☺This is an amazing social media management tool, easy to use and connect with social accounts. The best thing is, it is 100% free so beginners can also take its advantage to manage their social profiles at one place. Thanks for this great work, really appreciate. Thanks, Ravi Dixit StayMeOnline ☹Nothing found so far... Everything js working great.
The Best Social Media Scheduler Out There! The Software Is Easy To Use and Works Like A Charm. This Company Does More Thank Expected. Just try them out! ☺Easy To Use, Works Fast With All Social Media Profiles ☹The only issue we have is instagram. It is not socalit.io fault. Instagram makes it hard for companies to use their api
Cant Belive Very easy to use ☺Yes, I cant belive its free. I use this for post a content for my IG. ☹This is enough for me. If theres function can be add. i hopet its video streaming.
Great Tool, Needs Improvement ☺The fact that the tool is so easy to use is a big win in itself. I find it very user-friendly for Instagram and Facebook. ☹I was unable to schedule posts. The posts that were supposed to be published later, never got posted. I ahd to manually do so. It would be helpful to have a draft option where I can save posts that I want to edit later. Or, if I want to change the position of my watermark, I switch tabs and when I come back, the post I was working on vanishes. I had to start from scratch again. Not the most convenient in that aspect.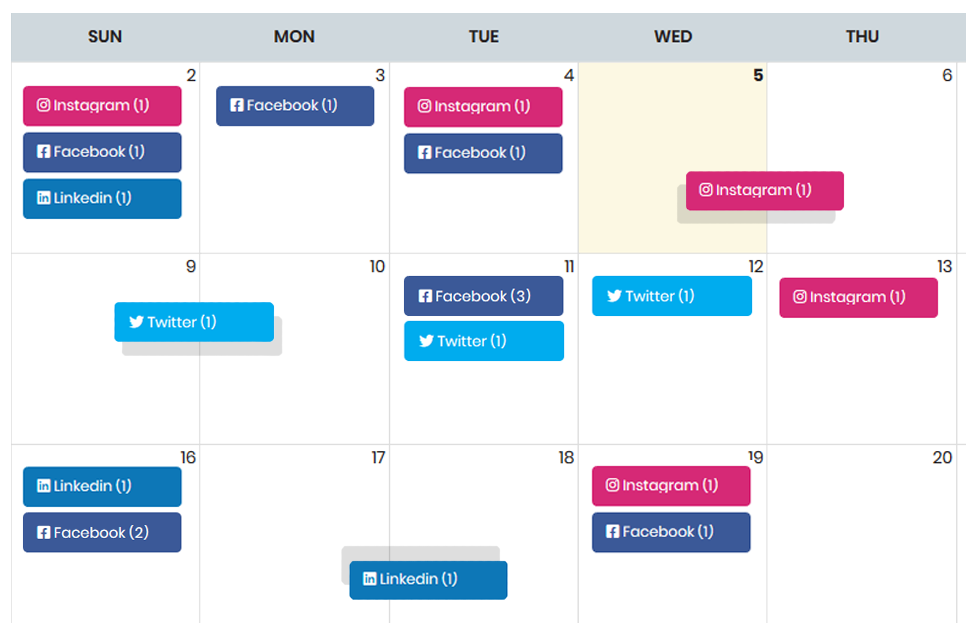 Visualize your social media activity.
Our intuitive content calendar gives you a bird's eye-view on your social media activity. 
See what's going live today, tomorrow, next week or even next month.  You can also edit the posts that are scheduled.
Design thumb-stopping social graphics with Designbold.
Designbold (Canva alternative) helps you to easily design branded social media posts for your channels.
With our integration, you can import your designs to Socialit, store them in your media library and use them in your posts.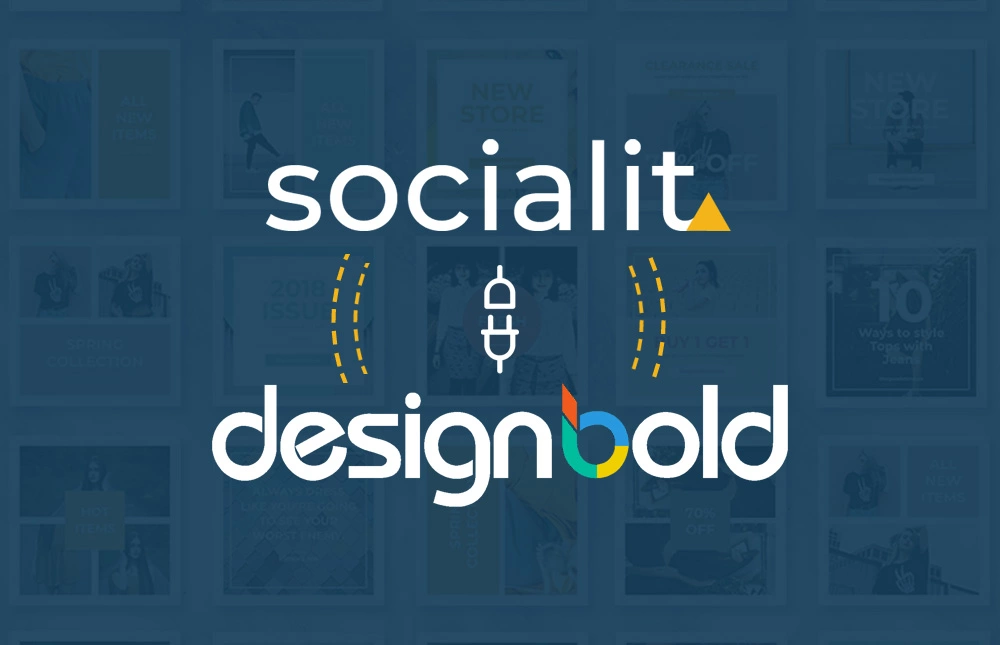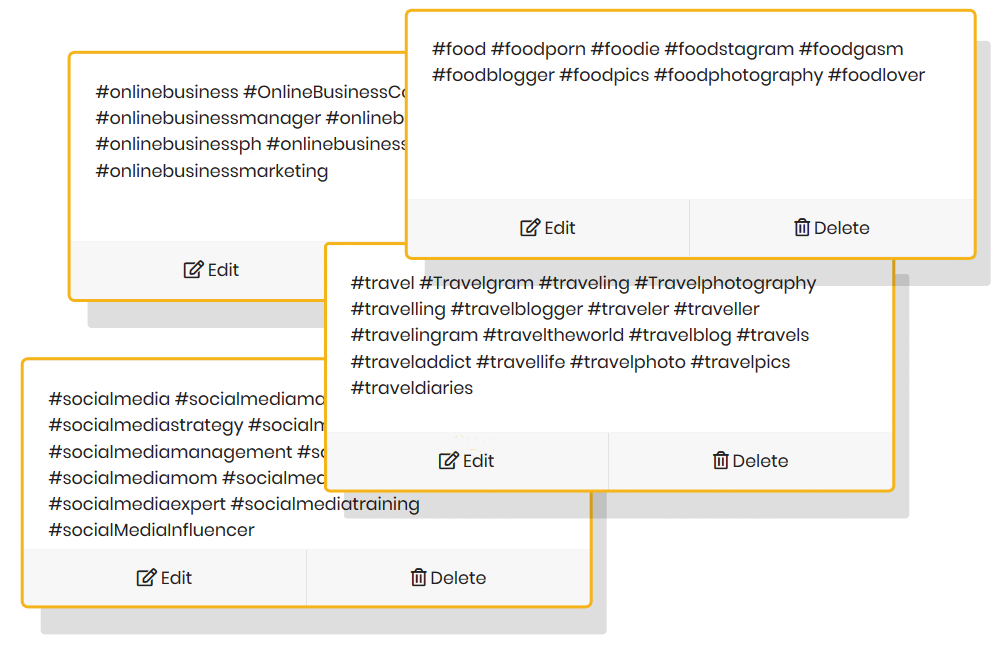 Save the hashtags you regularly use for your business and add them to your posts with the click of a button.
No more copy pasting your hashtags from excel sheets.
Frequently Asked Questions
You can add as many profiles as you want. You have to be the owner/admin of those profiles. We're the only platform that lets you manage unlimited accounts.
There are no restrictions on the number of posts you can schedule, but we highly recommend you to use the tool responsibly and do not spam.
Yes, we offer a non-commitment monthly subscription. You can always cancel at any time from your dashboard.
The unlimited Social Media Marketing Tool.
Signup for Free. Set up in minutes. No credit card required.